Honeymoon Beach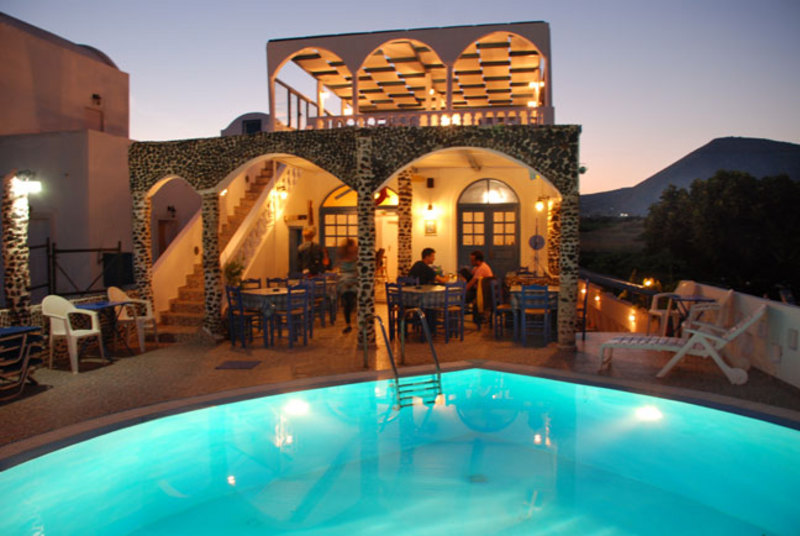 More Photos
Click to enlarge
Honeymoon Beach is a family guesthouse situated near Perivolos beach, which is the part of Perissa beach. There are in addition to housing a tavern that serves very good food and a agar par that are nice and hospitable. The hotel is for him self and suits those who want to live a little beyond the main tourist streets of Santorini. The biggest reason we, and many others think so much about the Honeymoon is the homely atmosphere and the pleasant tavern. Many guests return year after year you and it is not unusual to see guests encountered before.
Rooms
The hotel is divided into five houses, all built in the traditional "santorini" style. Altogether there are 22 rooms, most of which are studios. Some rooms are Duplex, kitchen and toilet downstairs and bedrooms upstairs. Some rooms have private balcony or veranda, some rooms share a balcony with neighbour. Half of the rooms is a staircase down. Try any time to have a room upstairs, or in any of the annexes. The rooms downstairs are cheapest. All rooms have TV, AC and safe. The standard is simple.
Tavern
Tavern, which is around a small heart-shaped pool, serves breakfast, lunch and dinner at low prices. The food is good and genuine Greek. Personally I think that the food Honeymoon Beach Tavern is in the absolute top in terms of Greek food. Julia would make a success if she had to open a Greek restaurant in Sweden. On tavern you can buy beer, wine, soft drinks and water.
Inside the tavern is a computer with a broadband connection if you need to check email or read Kalimera. Do you own laptop with you, you can connect it. Of course, it costs nothing to surf the internet.
Location
The hotel is located in Perivolos beach, which is part of Perissa beach. It is approximately 200 meters to the beach, which is fine-grained gray-black and hot. Along the long beach are a number of taverns and bars. Rental of all types of water sports toys are also available. If you do not want to go to the beach you can have you at the little heart-shaped pool.
Bus to Fira is about 500 meters from the hotel. At the bus stop is an expensive supermarket, a large supermarket with good prices are along the main road to Perissa. Want to rent a moped or car do you say to Julia, so calling her after a lessor who deliver directly to the hotel.
If you want to stay at Honeymoon Beach, you can call, fax or send an email. If you book in advance you will be taken at the airport or port. All transfers included in price.
Address: Perissa – Perivolos – Santorini
Phone: 2286082796, 2286081122
Mobile: 6942619482, 6975305946, 6979371745
Fax: 2286082796
Website: http://www.honeymoon-beach.gr
Email: honeymoon@san.forthnet.gr